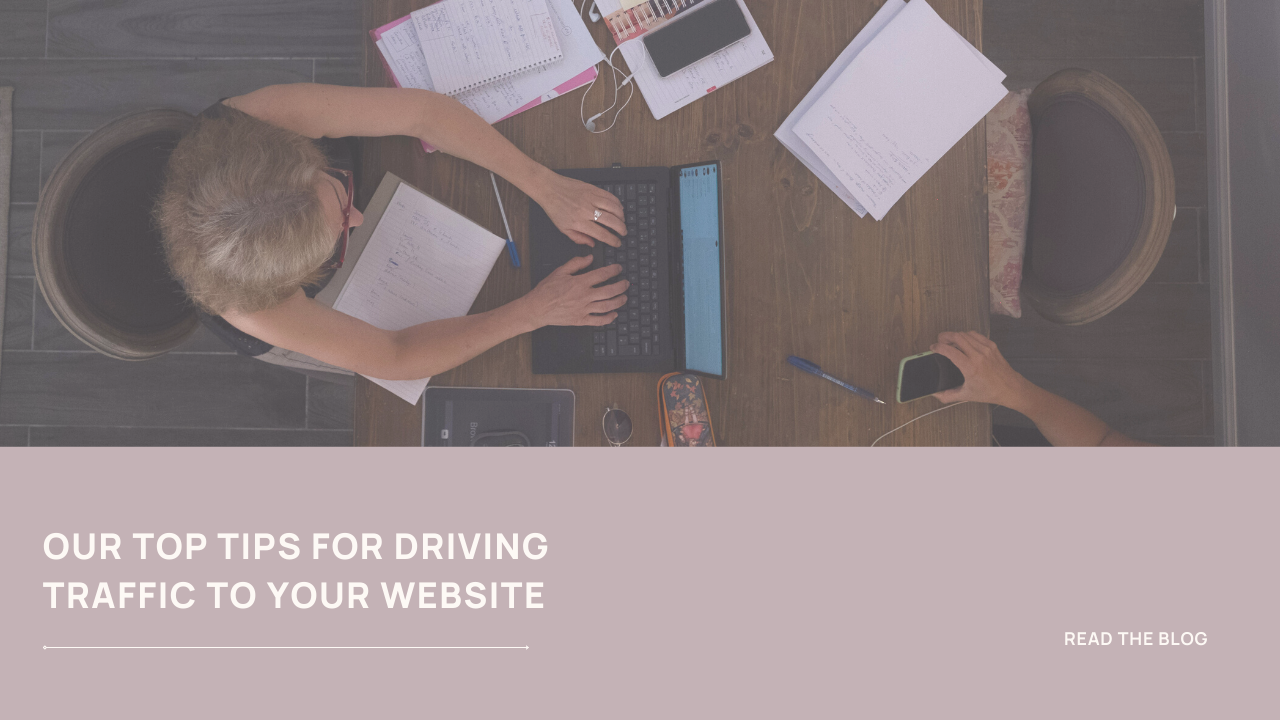 Most people cling to their devices 24/7 these days – browsing, searching, and buying.
The statistics are impressive. The US saw its web traffic skyrocket 22% in 2020, with daily online time spent on mobile phones soaring to 155 minutes. This is great for those brands with an existing presence, but tough on those companies just starting out.
The good news is your potential clients are only ever a click away. But the bad news is it's more competitive than ever to entice them. So, are you doing enough to get noticed?
So, the question is how do you direct this boom in traffic to your website? Here at Finesse, we've dug deep into Google Analytics to find out, and we're excited to share those findings with you below!
Direct Traffic
Clients that know about you and seek you out
Perhaps the most obvious (and, often, least talked about) form of traffic is direct traffic. But there's no doubt it deserves your attention – especially as Google Analytics confirms it accounts for more than half of traffic generated.
But, since direct traffic comes from visitors who already know your site and visit it deliberately, it relies on brand awareness, which is where more traditional marketing has a role to play. Offline advertising on print, TV and radio, as well as great PR and online advertising, is still needed in 2021. So, have you got your marketing and PR campaigns properly lined up?
Referral Traffic
Your brand is talked about by other brands – organically
This is traffic that comes to your site from external sources, and we love it because it will boost your brand awareness and your SEO! It's the kind of traffic that could take the form of press mentions, blog posts or online articles featuring your brand that linking to your site, as well as directory listings and unpaid reviews, among others.
Much like offline word-of-mouth recommendations, referrals of this kind can also work wonders for your credibility and reputation, especially if the source is respected.
Want to give it a go? Try guest posting on relevant blogs, sending your products to influencers, and sharing data from your sector (such as the results of a survey you've carried out).
Like direct traffic, you cannot bank on it but, when you've earned it, it's worth the effort!
Affiliate Traffic
Your brand is talked about by other brands – strategically
Although not specifically tracked by Google Analytics, traffic from affiliate marketing can boost your website too. All you need is an affiliate (anyone from a blogger to a social media influencer) to promote your site on their own platform. This obviously brings more traffic your way, but what's in it for them? Well, financial compensation from you – per click, per lead or per sale.
But with so many different types of affiliates out there, how do you know who to work with, or where to begin? Our advice for you is:
Think long and hard about your brand message
Search high and low through different platforms until you hit on one that's a good fit for your brand
Seal the deal and boost traffic to your site!
Paid Advertising
You pay to boost leads to your website
This is another major web traffic booster to have up your sleeve. The pros? Low-effort, quick pay-off and a razor-sharp focus on your target market. All in all, a great way to drive brand awareness and site visits.
The downside? It can be expensive to keep up, and results can start to fizzle out as soon as you stop pumping into it.
Admittedly, it is a strategy that can be hard on your budget in the long term! So, is it even worth a try? Here at Finesse we believe that, yes, it is – if you work things out smartly. Let us explain:
To begin with, you need to make sure you're targeting the right audience. It may sound obvious but skipping this step could mean that you're wasting money on visitors who don't even qualify, or aren't able to take action.
Then ask yourself: will your product do better on a paid search (PPC – pay-per-click), or on paid social media (social media ads)? Don't forget – with a paid search you have data about a visitor's search, but not who they are, and on paid social media, you have data on who the visitor is, but not what they're looking for.
Social Media
Traffic to your site comes through social platforms
We all know that social media is a terrific traffic driver – if you're ready to put in the time, that is. For traffic to flow in, your activity on social has to be more or less ongoing and on the ball. And even then, no one can predict what will trend tomorrow.
But here at Finesse, we're all about what we can control and letting go of the rest, and in this case, it's strategy.
Want to be more organised? Delegate, automate and schedule some of those time-consuming online activities to free up time for more creative work.
Hoping to take things to the next level? Explore other areas like the influencer market and invest in your PR and customer service.
Dreaming of having a brand that shines, no matter the volatile climate of social media? Become consistent at creating the kind of content that stands out and engages your audience.
Email Marketing
You use your email database to boost traffic
The best thing about email is that it's yours, and yours alone. There's no other company standing between you and potential site visitors when you use email. Plus, it can be a great channel for drawing clients in, keeping them interested, and even directing them to specific pages you may want to boost!
But how do you get there?
Well, first of all, remember that even though you probably won't get immediate results, things will improve with time, and more steadily than with social media. After all, being allowed access to your visitors through email must mean you've gained their trust, right?
So, if you're ready to make the most of email to watch your site visits multiply, these are our tips:
Keep your content relevant and specific. It's easy if you send targeted campaigns to different groups, maybe based on visitors' purchase history.
Stop losing your readers with boring or ambiguous subject lines. Make them clear and snappy so readers know what's coming and are eager to read on, and hopefully, click on your links!
Remember that you're dealing with people. A professional, informal style makes the interaction more human and personal. But how can this sway results in your favour? Well, by shifting the reader's attention to the approachable person behind the email, rather than the impersonal company that might profit off them!
SEO
 Traffic that comes from web searches
With an estimated 3.5 billion daily searches on Google, and only 0.7% of users going past page 1 of the SERP (Search Engine Results Pages), it's no wonder competition is so fierce!
That's where SEO comes in. If you're savvy (and patient) enough, SEO can give you results that last. Who doesn't want a free source of passive traffic?
That's why we've put together an easy checklist of what your website needs for technically foolproof SEO:
Evergreen content that will stand the test of time and keep your site's rankings high, for months and beyond
Focused keywords and phrases that make your site easier for search engines to understand and pick up
Simple, well-structured site architecture with clear URL paths
A strong strategy for internal linking, to reinforce the site's structure
Quick page response time, as low speed and long loading times will weaken SEO.
Finally, keep tabs on your ranking and don't hold back on revisiting older pages that are almost high-ranking. Even a few careful tweaks can help optimise your site!
The main takeaway for you? Don't put all your eggs in one basket. No single source of traffic will give you 100% of your site visits. And each one will need some of your time, money or effort. But we know that a diverse approach combining different tactics is your best bet and will take you far.
Want some help to discover which of the traffic sources your website may be missing out on? Drop us a line on [email protected] and boost traffic to your website in 2022!
Subscribe to our free newsletter
We help you finesse your business, serve your customers best and achieve more success.