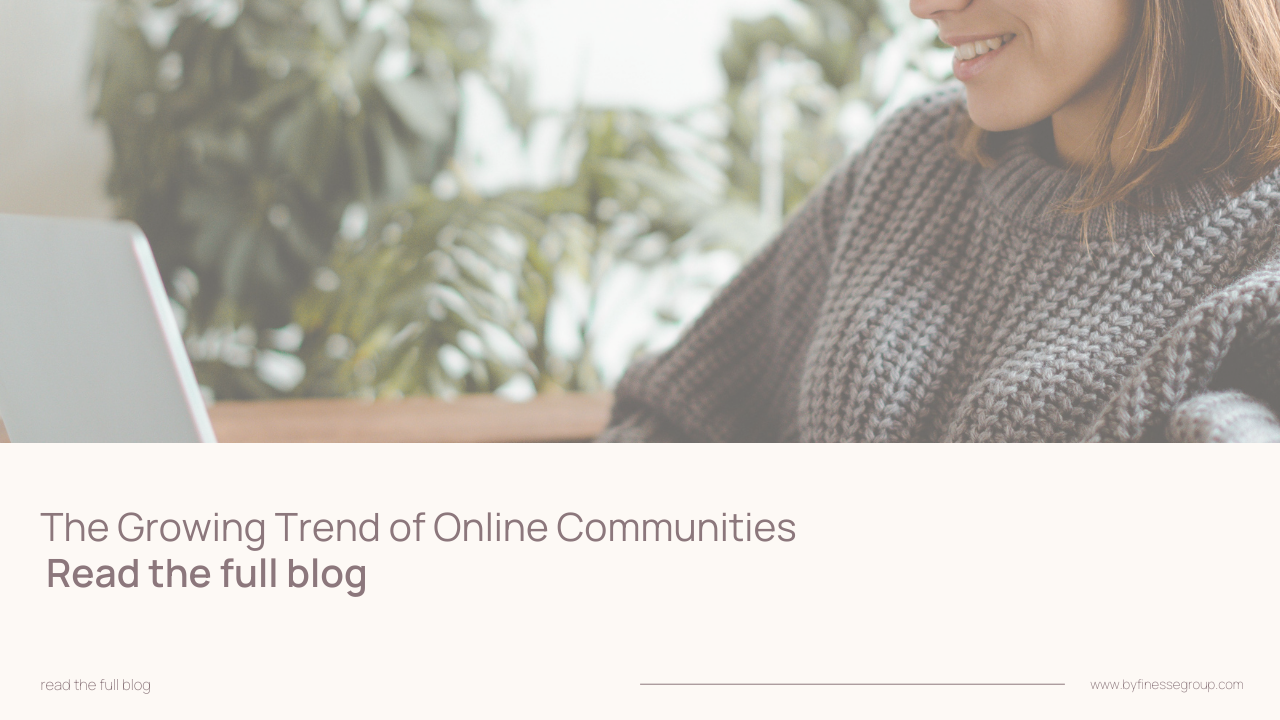 Believe it or not, online communities have existed since as early as 1985, when a community called 'The Well' was created – a breakthrough at the time. As technology and social media expanded and developed, online communities slowly began to gain traction. Fast forward to 2021 and, in a time of widespread physical isolation, the Covid-19 pandemic has served as the ultimate catalyst for a major online community boom!
We're now seeing more and more businesses experimenting with virtual communities, pushing the elastic boundaries of technology and the online space as far as they can go.
These communities (and the platforms used) vary in nature, purpose and functionality, but there are undeniable benefits reaped by all.
Here at Finesse Group, we've even started our own online community, The Finesse Writer's Club, and it's been an extremely positive experience from the get-go.  So, if you're also thinking about hopping on the online community bandwagon, we've listed all the reasons we believe they're a great idea – both for your business, and for your community members. Read on below!
Geography-defying
One of the best things about online communities is that they are accessible to people all over the globe. Depending on what products or services your business has to offer, an online community could help you expand your reach and engagement, and could also generate worldwide interest in your business.
Bonus: Dream bigger with your online events. Planning a web conference? Your guest speakers can join in from anywhere in the world (all time differences considered, of course). So, think outside the box and surprise your members with someone they won't expect!
A sense of belonging
People are social beings and, as a result, often need to feel connected to others in the form of something larger than themselves. This is where communities – both online and otherwise – come in. In fact, recent research by New York-based research centre TheGovLab has shown that an increasing number of people are finding meaning and a sense of belonging in online groups.
Keep in mind that in order to maintain a healthy and inclusive community environment, it's important to have a great moderator to supervise conversations and ensure everything always remains positive and constructive.
Understand your customers, improve your business
By creating an online forum, you'll provide an easily accessible platform where members can discuss your business, freely. Learning what they want and don't want by taking on their feedback is a great way to identify how your business can improve – and, in turn, how you can keep your customers satisfied.
A reliable source
Members will know that they can turn to your community to discuss niche topics linked to your brand, product, service or industry. This way, the space will become a unique and reliable information point for your members – a space to connect with like-minded people where they ask questions and share tips, feedback and solutions. Plus, as your community grows, it could become the trusted source for all sorts of information – helping to create further business opportunities for you.
The best marketing is word of mouth
An online community can also make for a powerful marketing channel! Done right, your community can develop into a space to talk about, and eventually promote, different aspects of your business. If your members like you and what you do, they'll happily recommend your services to people in their circle – free PR!
A question of loyalty
An online community can foster an environment in which personal relationships can be built between employees and customers. Through discussions and online events, members will be given the opportunity to get to know your team members on a more human level. As a result, stronger relationships will be formed, which may translate into more trust and loyalty towards your brand in the long run. And that's what we call a result!
 Need assistance kicking off an online community? We're here to help! Contact us at [email protected]
Subscribe to our free newsletter
We help you finesse your business, serve your customers best and achieve more success.